Welcome to ByDesignDJ.com

We provide DJ's, MC's, Pianists, Lighting, Up-lighitng, and Photo Booths for all occasions.  Weddings, Sweet 16's, Corporate Events, Bar and Bat Mitzvahs, Anniversaries, and more!
#ByDesignDJ is located in Southern New Jersey and can provide Award Winning DJ Services to the entire Garden State!  We have also provided entertainment in NY, PA, DE, MD, NC, and FL!
Meet Our Founder
Kris Szanto
DJ/Entertainer
Kris Szanto created By Design Entertainment with one goal in mind, making memories that will last a lifetime for YOU on your BIG DAY!  "Because It's All About You"  This is our slogan and we pride ourselves on it.
Our goal as a DJ Entertainment Company is to portray your personalities at your wedding. (or special event)
It isn't about us, it is about YOU and we will do all that we can to make sure everyone knows it too!  With over 20 years in the DJ Entertainment Industry I have had the privilege of learning from and working besides some of the best in the business.  This has helped to elevate my standards to a whole other level.   As a teenager all I wanted to do was to mix up the best tracks to get the floor pumping!  The feeling I got from getting people to hit that gym floor and dance was like no other feeling I have ever had.  After a short time playing high school dances and birthday parties I was asked to DJ a wedding and I was hooked! It has become my passion in life.  From the Grand Entrance to the last Dance By Design Entertainment will be there helping to make your dream day a Reality!  "BECAUSE IT'S ALL ABOUT YOU"
Heidi Tolly
Co-Founder/Pianist
Photo Booth Babe!
By Design Ent. News
LATEST STORIES FROM THE BLOG
Testimonials
CLIENTS LOVE US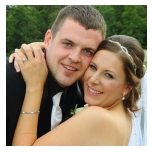 5 star
My husband and I hired Kris Szanto of ByDesign Entertainment to DJ our wedding. His pricing was very fair and he even was offering a special with lighting for the dance floor and a photo booth package! He met with us on two occasions, once to first meet and discuss his services and then again a couple weeks before the wedding to go over song choices. We received a TON of compliments from friends and family about how awesome the music was and what a great DJ we had! We had given Kris a list of songs we wanted played at different times during the night (cocktail hour, dinner, slow songs, dance songs etc) and told him they were some of our favorites and he could feel free to add some songs in that he thought would be a good fit to the kind of music we liked. We had the best time celebrating! Kris even found us toward the end of the night to let us know we had time for 3 more songs and asked if there was anything we hadn't heard yet that was on our list that we wanted played! (We had probably given him enough songs to last 2 receptions so we knew not all of them would get played.) We mentioned a specific slow song we wanted to hear and it was the next one played! Everyone also loved the photo booth! We highly recommend By Design Entertainment for your event. Kris was an awesome emcee for the reception and knew how to work the crowd and get everyone excited. The DJ can make or break your party, so do yourself a favor and hire him to keep your guests entertained and dancing!
Our wedding was 100% everything we hoped it would be, and then some, and By Design Entertainment played a huge role in that. From start to finish, Kris was willing to add in personal songs/dances that we wanted, organize the wedding party, and keep the night flowing smoothly. Our dance floor was never empty. Photo booth was a must have, especially with an attendant to put together our picture strip book and had us our bride/groom props. We got a ton of compliments from guests about how much they enjoyed the playlist and the energy he brought. Thank you!!!!
Get Social With Us Now!
"LIKE" our Facebook Page Today!
Elevate your event by making a lasting impression with By Design Entertainment, LLC.
"At the end of the day people won't remember what you said or did, they will remember how you made them feel" -Maya Angelou
Kris@bydesigndj.com
@bydesigndj
609.254.7148 text or call